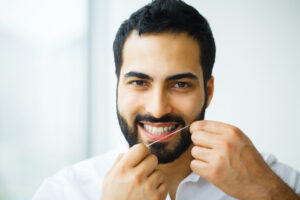 The right combination of daily efforts and regular dental checkups can help you stay on top of your oral health needs. One thing to keep in mind is that when you want to keep your smile safe from harm, you should focus on taking care of your gums along with your teeth. The efforts you put into maintaining your periodontal health protect you against tooth loss, and they also help you maintain your general well-being. Our Dallas, TX dental practice can assist you in resisting problems with gingivitis and more advanced gum disease. At a routine appointment, we can identify problems and recommend the appropriate course of action. We can also help by offering guidance on practicing better oral hygiene habits at home.
Why You Should Take Your Periodontal Health Seriously
If you are not taking the condition of your gums seriously, there are serious issues that can impact you and interfere with your smile as well as your oral and general health. You may be surprised to learn that adults are most likely to lose teeth because of issues with their periodontal health. As an infection worsens, bacteria can damage the tissues that support teeth, which leads to their becoming lost. You also need to worry about the movement of harmful microbes to other parts of your body, where inflammation and other issues can create new health concerns.
Protecting Your Gums At Home
In between visits with your dentist, you should make a consistent effort to protect your gums. You do this by both brushing and flossing. Flossing removes bacteria from hard to reach spaces between teeth. Make sure that when you perform both of these tasks, you clean thoroughly at your gum line to stop bacteria before they can cause gingivitis.
Regular Preventive Care And Your Periodontal Health
During your routine teeth cleanings, your hygienist will fight plaque and tartar buildup so that cavities and gum disease do not impact you. If there are already signs that you are dealing with gingivitis, we can help by recommending a deep cleaning. This is a targeted cleaning that actually removes bacteria from the roots of teeth, which gives your gums a chance to heal.
Talk To Your Dallas, TX Dentist About Your Periodontal Health
Through better periodontal health, you can protect yourself against different threats to your smile and overall well-being! We provide protection against gum disease and other concerns when we meet with patients for regular services. We also provide timely treatments when problems are identified at appointments. If you have questions about your periodontal or dental health, or if you want to discuss any services that we provide, please contact Gentle Smiles Family Dentistry in Dallas, TX at 972-329-7645.