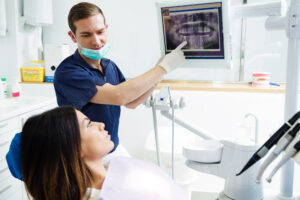 If a problem with dental decay is not stopped in time, your tooth will become infected. This is a potentially serious problem, as it can lead to persistent pain, trouble with sensitivity issues, and an increased risk that your tooth might be lost! At our Dallas, TX dentist's office, we are ready to help you in the event that you need this kind of problem treated. Through root canal therapy, we can directly deal with the bacteria and infected tissues in your pulp, which can restore your oral health and put an end to active discomfort. We can also take care of your tooth by providing a custom dental crown that keeps it secure and healthy.
Why Would I Need A Root Canal For My Problem Tooth?
If you have a problem with a tooth that is sore or sensitive, affected by swelling of the surrounding tissues, or impacted by some other issue or issues, you may have an infection that needs to be treated. With the right restorative dental work, this is a problem that can be fully resolved. After a root canal, your health concerns can be addressed, and we can make plans to protect the tooth with a custom crown. With that said, you should bear in mind that when a cavity is not treated in time, an infection can lead to serious complications, including tooth loss!
Scheduling Treatment To Fully Address A Cavity Or Injury
If you think you might have a cavity, or if you have issues with a tooth after physical injury, schedule treatment as soon as possible. The sooner you have this matter addressed, the sooner you can make sure that it is handled, and that there are no complications to address. During root canal therapy, your dentist will carefully remove unhealthy tissues and bacteria. Once this space is treated and properly cleaned, it can be sealed to keep the tooth safe. At this point, we will make plans to restore it with a custom dental crown.
Restoring Your Tooth After Your Root Canal
Through the placement of a dental crown, we can make sure that your tooth remains safe after root canal therapy. A crown provides full coverage above the gum line. A restoration made from porcelain can effectively give you the protection you need without altering your smile.
Your Dallas, TX Dentist Is Ready To Fully Restore Your Unhealthy Tooth
Through treatment to fully restore your unhealthy tooth, we can make sure potential problems with infections or internal injuries are completely resolved. Remember that our practice can do more than just address problems when they arise, as we can offer early warnings about issues like tooth decay during regular checkups. If you want to find out more about how we can take care of you, contact Gentle Smiles Family Dentistry in Dallas, TX at 972-329-7645.