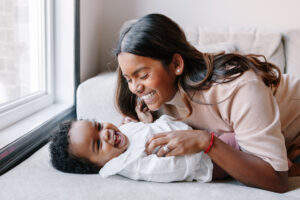 One important aspect of being a parent is instilling vital health values in your child. They need specific tools in the maintenance of their wellbeing. Oral hygiene habits begin particularly young, and can be hard to retrain. For this reason, it can be helpful to design a comfortable experience for your little one. If you are looking to schedule an appointment for them, take the opportunity to line up your visits to theirs.
Both you and your child require regular checkups with your dentist. The typical guideline is to stick to visits in the office every six months in order to have a qualified dental professional keep a consistent eye on the development of your smile. At Gentle Smiles Family Dentistry in Dallas, TX, we understand the importance of preventive dental care for you and your loved ones of all ages. Take advantage of a combined schedule and show your little one that the dentist is nothing to fear through positive affirmation.
First Visits Can Be Stressful For Children
Anxiety surrounding a trip to the dentist can happen to people of any age. One helpful way of giving your child confidence for their initial trips into the office for an examination is through positive reinforcement and affirmation. Show yourself as a role model by attending to your dentistry needs while next to them. This approach can be a way to show them that this activity is a routine duty in health maintenance and not a punishment. Oral health providers are here to help!
Show Them The Path To Better Dental Health
You need to visit the dentist every six months as an adult as well. These regular meetings allow your oral health professional to take a look at your mouth and notice any problems or changes that occur. More consistent appointments mean more information for your care provider, so take these visits seriously.
Take the knowledge that you and your child receive at the office and use that to your advantage in keeping up with your home oral hygiene regimen. You have an opportunity to create lasting values.
Helping Parents Support Oral Wellness In Dallas, TX
Give your child the tools they need to survive by helping them confidently see the dentist. Catch diagnoses early in order to best keep their mouths developing in a proper fashion. Preventive care is important in maintaining a healthy mouth for you, as well. Schedule your appointments with your child so that they can see a brave parent confidently attend their regular visits for examinations and cleanings. Call Gentle Smiles Family Dentistry in Dallas, TX at 972-329-7645 to learn more about how periodic trips to the office can help you and your loved ones achieve greater heights in your dental future.