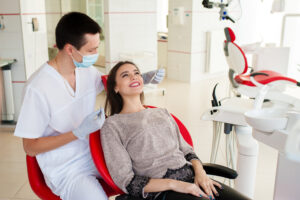 What are you doing to make sure gingivitis does not affect your health? Through good oral hygiene efforts at home and regular dental exams, you can lower your risk for problems with your gums. At our Dallas, TX dentist's office, we are happy to help you find ways to better protect yourself against this and other threats. We are also prepared to act should you find yourself in need of care to fight an active infection once it is discovered. We can perform a deep cleaning that removes bacteria that are present on the roots of your teeth. In doing so, we can stop an infection before it has the opportunity to worsen and create more serious issues for your overall health.
Why Gingivitis Is A Problem To Take Seriously
Gingivitis is something that can affect many people in their lifetimes, but it is reversible, which means you can put a stop to it without long-term complications. Unfortunately, not everyone who has problems with gum disease will have the problem resolved in this manner. Eventually, untreated problems with your periodontal health will result in the formation of more advanced gum disease. An infection at this stage is more difficult to manage, and it is more likely to cause complications, including tooth loss!
What A Deep Cleaning Does For Your Gums
When patients have problems with gingivitis, we can take on that trouble at our practice by providing a deep cleaning. This differs from the cleanings that are normally provided by working to clear away bacteria on the roots of teeth so that they no longer create problems for the tissues. This makes the process more involved, but in removing these harmful agents, we can stop your infection from progressing and doing any more harm to your smile.
Keeping Up With Good Preventive Care
By keeping up with good preventive care in the form of good daily behaviors and regular dental checkups, you protect your teeth and gums. Flossing and brushing thoroughly will help you control the accumulation of bacteria at the bases of teeth, which means those harmful microbes are less likely to gather on your roots. With consistent dental appointments scheduled, you have professional cleanings on a regular basis, which means tartar buildup is consistently managed.
Talk To Your Dallas, TX Dentist About Scheduling A Deep Cleaning
By providing protection for your smile in the form of a deep cleaning, we can help you take on an active problem with your gums and prevent a more serious issue that might develop in time. This service can be provided at a routine exam where gingivitis is detected, and is just one of many ways in which we can help you protect yourself from harm. If you would like to find out more, please call Gentle Smiles Family Dentistry in Dallas, TX at 972-329-7645.