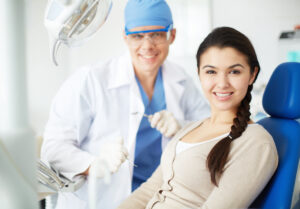 Although they are strong, our teeth are vulnerable to harm. Sometimes, that refers to physical trauma that leaves chips, cracks, or other damages, but harm can also come from decay. When cavities or injuries occur, we are left with permanent damage that will have to be addressed. Fortunately, the right restorative treatment can provide lasting support and stability that preserves your smile as well as your dental function. Our Dallas, TX dental practice can take care of your tooth and smile by providing a durable, lifelike dental crown. Once placed, it can offer long-term stability and protection, even as you rely on it to bite and chew.
A Dental Crown Is Put In Place To Permanently Restore A Tooth
When a dental restoration is placed, the expectation is that it will provide long-term support. Because of this, it is important that it be secure, comfortable, and durable. A dental crown that is carefully constructed for your tooth can provide all of those qualities. Our practice can provide crowns that closely imitate enamel and also offer enough strength and security to let you preserve a comfortable dental function.
Placing A Crown That Is Durable And A Good Match For Your Smile
After a problem with your oral health is identified and treated, we can provide a restoration that gives you the kind of protection you need. The first step in the process calls for important preparatory work, which will see your dentist take measurements and provide treatment to make sure that your restoration will fit properly. At a follow-up appointment, your tooth will be capped with your permanent restoration.
We Can Help You Avoid Future Issues That Require Dental Crowns
While it can be reassuring to know that your smile will be taken care of if you experience any problems, remember that our practice is here to help you stay healthy and avoid the kinds of issues that make restorative dental work necessary. Through your regular dental exams and cleanings, you will receive important feedback as well as additional protection against decay as well as gum disease. When patients who attend checkups regularly do have problems, they can be caught and treated early so that your tooth only requires a dental filling.
Talk To Your Dallas, TX Dentist About Receiving A Custom Dental Crown
Through treatment with a custom dental crown, we can make sure that your tooth stays safe and secure, and still looks natural, after we take care to restore a tooth. We are here to step in when problems arise, but remember that our practice is also here to help you stay on top of your smile care and preserve your oral health! If you have questions or would like to know more, please contact Gentle Smiles Family Dentistry in Dallas, TX at 972-329-7645.