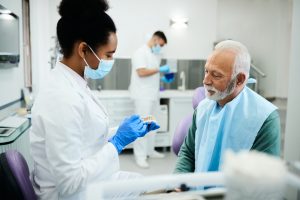 Nothing can ruin your self-image like missing teeth. When you are constantly thinking about your smile's appearance, you miss out on living in the present. From avoiding pictures to going out less to trying to keep your mouth closed whenever possible, the anxiety is real and often painful. Dentures, however, are a helpful solution. In today's blog, your Dallas, TX, dentist discusses everything you need to know about them and the ways they can help you reclaim a healthy, happy mouth.
When Dentures Are Right For You
A set of this high-quality, life-like prosthetic can be the best option in multiple scenarios. They can replace a full set of missing teeth, or they can fit around those that remain — these two types are known as full or partial. If you happen to have a single missing tooth or a few that are missing next to one another, a dental bridge could be another option. After you and your dentist decide on dentures, they will craft a custom-made set, unique for your specific needs by utilizing the latest dental technology. They are color-matched to your natural teeth as well as the shade of your gums. This makes them virtually unnoticeable and indistinguishable in your mouth. Full and partial dentures are typically removable, which allows for easy cleaning and care.
Implant Retained Dentures
In certain situations, your dentist may recommend permanent prosthetics. When you lose a tooth, you lose its root as well, which can lead to issues with your jawbone and even health problems outside of your mouth. In cases where this might be a concern, your dentist could suggest dentures that are supported by implants. Instead of resting on your dental ridge (which full and partial sets both do), implants go into your roots to support your new teeth. This allows your jawbone to be stimulated, which releases important nutrients into your body. Ultimately, your dentist will suggest the best option for your needs. 
Maintenance And Care
Even though they are prosthetic, you should still need to brush them as you would your natural teeth. You also need to make sure they do not dry out. When they are not in your mouth, keep them in a cleansing solution or in plain water. Most importantly, just listen to the instructions your dentist gives you.
Contact Us To Learn More About Dentures
If you are missing teeth and want to find a solution, please do not hesitate to reach out to us. We offer several restorative procedures that can help address many different needs. You can contact Gentle Smiles Family Dentistry in Dallas, TX at 972-329-7645. You can also visit our comfortable office at 10210 Scyene Rd. Dallas, TX 75227. We look forward to hearing from you soon.