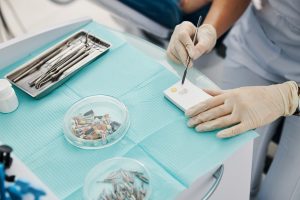 It goes without saying that your oral health is of the utmost importance. In fact, the biggest gift we can provide our oral health is a well-rounded preventive dental routine. This often includes a balance of brushing and flossing at home, attending routine dental checkups, and even paying mind to the foods and beverages you consume and their impact on your health. Still, sometimes threats such as decay or gum disease have other ideas, wreaking havoc on your natural structures. In today's blog, your Dallas, TX dentist takes a look at the manner in which dental decay spreads, and why it is imperative to address a minor cavity with a filling before it gets worse.
Taking Care of Your Health
Prioritizing the quality of your grin is a much bigger task than you might have initially thought, as it involves protecting multiple assets from the threats of countless terrors. Indeed, issues such as decay, gingivitis, TMJ disorder, and more barely scratch the surface, and you must be well-equipped to hold down the fort. If even a single area falls short, you can expect to endure a range of complications. Fortunately, restorative dentistry can come in handy in these exact moments of emergency.
Restorative dentistry involves the process of removing threats such as decay and reinforce your natural structure's strength. There are a handful of treatments that are designed to address a myriad of concerns, but the beginnings of a cavity are best addressed with a dental filling. Reach out to our team today to learn more.
Preventing Bacteria from Causing Issues
Just like a number of other oral health concerns, dental decay begins with hyperactive oral bacteria. These microorganisms are present in every grin, and feed off the sugars and food particles that we consume when eating. This act causes them to secrete destructive acids that actively break down the natural structure of a tooth, resulting in small holes known as cavities.
Without proper treatment, cavities will spread deeper into the inner workings of a tooth, causing damage to the nerves and inner dental pulp. To best avoid this and the possibility of losing your tooth, our team recommends seeking a dental filling as soon as possible.
Benefits of Composite Resin
Dental filling treatments utilize a lifelike composite resin that can be shade-matched to your smile's exact shade or hue. This not only offers a natural-looking solution, but further reinforces your structure once completed. The process involves removing the infected portions of a tooth, then taking care to fill the open gap with the material. Once it has been shaped to satisfaction, we utilize a special light to cure it, then you are on your way.
Learn More Today
Contact Gentle Smiles Family dentistry in Dallas, TX by calling 972-329-7645 to learn more about the importance of seeking treatment sooner rather than later, or schedule your appointment with our team today.